At the CSPA Annual General Meeting held in Kenilworth on 11-12 October delegates voted unanimously to continue our campaign to protect the State Pensions triple lock in 2024 and beyond. The triple lock increases the State Pension by the higher of: inflation; average wage growth; or 2.5%.
Inflation (as measured by CPI in August) was 6.7%; and annual Wage growth (including bonuses) was 8.5% (averaged across May to July 2023), but there is speculation that the Government will use a lower figure. The full 8.5% average earnings growth increase should apply.
The Conservative Party's 2019 election manifesto promised to keep the triple lock, but suspended it in September 2021 leaving pensioners with a 3.1% increase in April 2022 when earnings had risen by 8.3% and inflation had reached 9% by April. The triple lock helps keep pensioners' total incomes from falling too far below inflation and average earnings.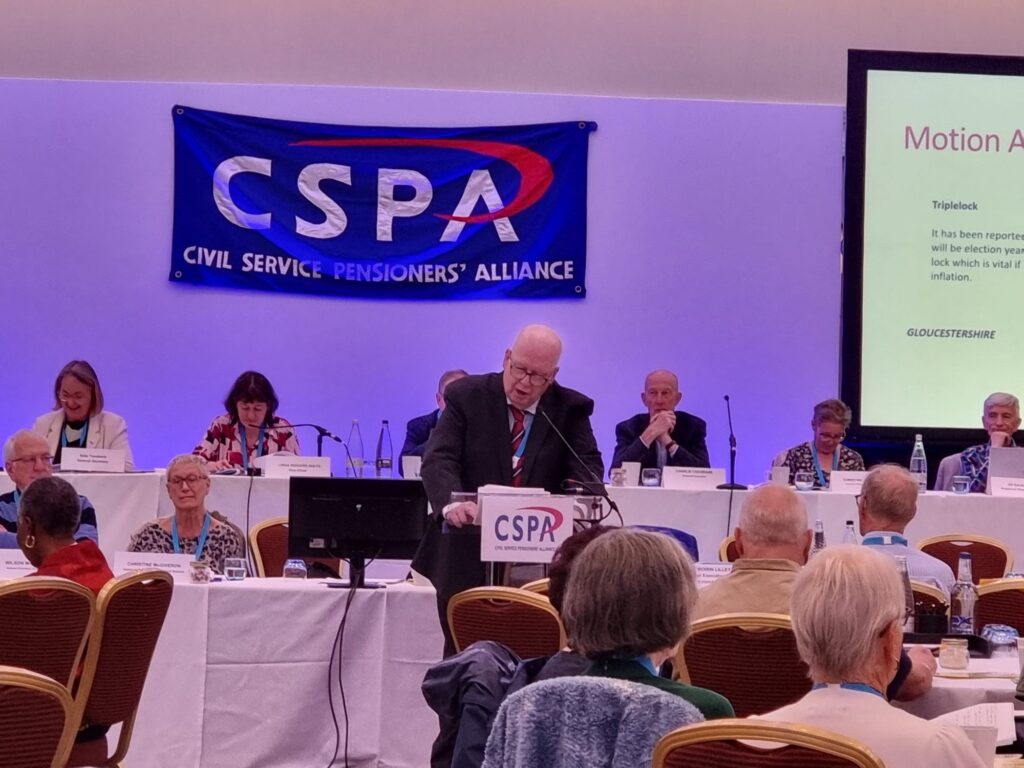 Tony McMullan addressing the CSPA AGM about the triple lock
The issue was debated at the CSPA AGM on 12 October. Speaking on behalf of the Executive Council, Tony McMullan from the CSPA Northern Ireland Branch said:
"The Triple Lock is absolutely essential to maintain the current living standards of Pensioners but it does little to increase it from its very low base as one of the worst State Pensions in Europe. The Government are very proud to regularly proclaim that the UK is the 5th richest economy on the World. Pensioners would be delighted to receive equal treatment and get the 5th most generous Pension in the World !! At the moment the UK was not even in the Top 20 Pensions in Europe."
Please support the campaign to save the triple lock by signing the petition at the link below so that the issue is brought before Parliament: