The Chancellor of the Exchequer, Jeremy Hunt MP has delivered the Spring Budget 2023.
The Spring Budget 2023 was focussed on achieving 3 of the Prime Minister's 5 priorities:

Halving inflation
Growing the economy
Reducing national debt

The majority of policies were structured within the Chancellor's 4 pillars of industrial strategy for delivering long-term sustainable growth:
Everywhere
Enterprise
Employment
Education

Announcements made included:
Freezing fuel duty and maintaining the 5p cut for a further 12 months.
Introducing "full expensing", meaning companies can claim 100% capital allowances on qualifying plant and machinery investments for the next three years.
Investing £11bn over the next 5 years to the national defence budget
Creating 12 new Investment Zones where successful applications will be able to access £80 million of support for a range of interventions including skills, infrastructure, tax reliefs and business rates retention.
Extending the energy price guarantee for a further 3 months.
Increasing access to state-funded childcare for all parents working 16 hours or more.
Increasing the pensions annual tax-free allowance by 50% from £40,000 to £60,000.
Abolishing the Pensions Lifetime Allowance.

The full statement from the HM Treasury can be found here and the Chancellor's Speech can be found here.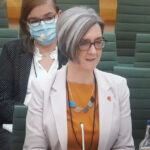 General Secretary's comment
Image: Prime Minister Rishi Sunak hosts Cabinet meeting 15/03/2023. London, United Kingdom.
The Chancellor of the Exchequer, Jeremy Hunt speaking at the Cabinet Meeting prior to presenting his plans for the economy, including taxation and spending, in the Budget.
Picture by Rory Arnold / No 10 Downing Street
Our campaign asks
We campaign to protect what you've earned. Whether this is your civil service pension, universal pensioner benefits or dignity in later life.